Netro Support: FTP Uploading
Overview
Please note: This page is shown for archive purposes only,
from Mon 28/09/15 we will only support logins via SFTP.
Your files can be uploaded onto our web server via FTP (File Transfer Protocol).
A number of different FTP programs are available, such as FileZilla or WS_FTP
which are also available via our download section.

Instructions
These instructions relate to FileZilla 3.01
and should be similar to other versions or other FTP programs.
1. Setup your FTP connection profile
In FileZilla, select File, Site Manager

(a) General tab
New Site
Host: eg www.netro.com.au (specify your site address)
Logontype: Normal
User & Password: use the details that were supplied by Netro
when your site was first activated, this is often similar to your
primary email address, excluding the domain (eg @netro.com.au)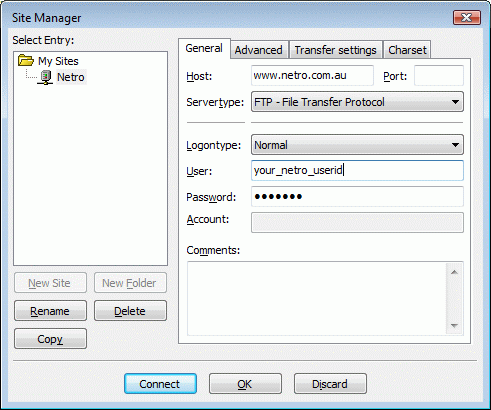 (b) Advanced tab
Default local directory: Specify the location of your files, such as your desktop.
Default remote directory: Specify your wwwroot upload folder on the Netro server.
remember to substitute userid with your User ID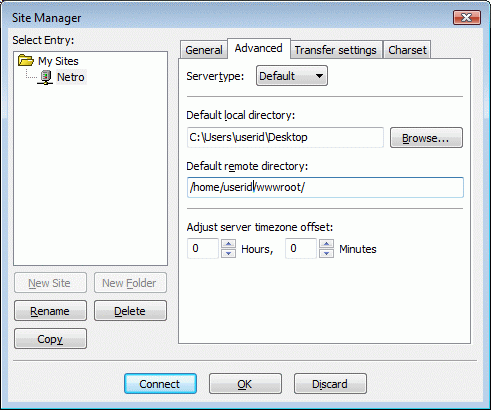 (c) Transfer settings tab
Transfer mode: select Active (also known as Port) instead of passive mode
otherwise you may not be able to connect through our firewall.
(In WS_FTP you can find this within the session properties "Advanced" tab)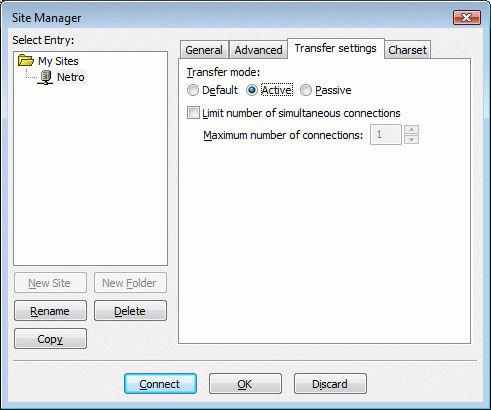 2. Open your upload folder
Hit Connect button
then change to your upload folder such as wwwroot which contains your web site files. 3. Upload your files
Please remember that your default home or start page should be called default.htm, which should be all lower case.
Files are normally transferred in binary mode, however if you are uploading PERL or PHP scripts, use text.
To transfer a file, double click.

4. Test your site
Enter your web page address:
such as: http://www.netro.com.au/
If the updated page is not appearing, Try Ctrl-Refresh
If you are still getting an error, make sure you have uploaded the file into the right directory

Links:
Web Design
Web Resources


Last updated: Mon 14/09/15