Permanent Connections
Prices shown include GST
Product Information
A permanent connection is a service tailored for medium to large organisations who require 24 hours a day connectivity to the Internet. We offer a range of connection speeds from 56K to 2 MB, allowing your organisation Internet requirements to grow with demand. The service includes: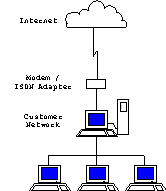 Routing
Connect your LAN (Local Area Network) to the Internet through one link. A modem link will support a few simultaneous users browsing the web through Netro's high speed proxy server, while an ISDN line will support many
Email Gateway
Set up an SMTP (Simple Mail Gateway Protocol) server on your network for full control over your email. Netro can act as a backup mail server for incoming mail in case of a link failure.
Web and FTP Hosting
Host your corporate web page or Intranet on your server for full control over your site, and/or provide an file download site for your clients.
Pricing
Our pricing options are based on the amount of data that is transferred from Netro into your site. The registration fee covers a dedicated port on our router and telephone line installation costs at our premises.
Effective rate is $0.16/MB + GST = $0.176/MB
Connection Speed
56K
Dual 56K
64K ISDN
128K ISDN
256K ISDN
2 MB*
Registration
$495 (450)
$990 (900)
$990 (900)
$1485 (1,350)
$1980 (1,800)
$4950 (4500)
Monthly Fee
Year
$3,168 (240/mth)
$6,336 (480/mth)
$6,336 (480/mth)
$12,672 (960/mth)
$25,344 (1920/mth)
$25,344 (1920/mth)
Quarter
$825 (250/mth)
$1,650 (500/mth)
$1,650 (500/mth)
$3,300 (1000/mth)
$6,600 (2000/mth)
$6,600 (2000/mth)
Bandwidth
1.5 GB
3 GB
3 GB
6 GB
12 GB
12 GB
Excess bandwidth (per MB)
$0.22 (0.20)
$0.22 (0.20)
$0.198 (0.18)
$0.198 (0.18)
$0.198 (0.18)
$0.198 (0.18)
*Connectivity options include Frame Relay, DDS Fastway, Megalink, Datalink & HDSL
The monthly amounts shown (in brackets) exclude GST for calculation & comparison purposes.
Pricing before 01/11/00 here
What will I need?
You will require a dedicated analogue or ISDN line. For a summary of Telstra ISDN costs, see http://www.netro.com.au/services/telstraisdn/. You will also need either a modem or ISDN adapter. If you are not using a router, then you will need routing software running on your server.
Netro provides support for Windows NT with Microsoft Routing and RAS update, as well as configuration information for popular routers and ISDN cards.
Related Services:
Small Business Solutions
IP Addresses
Domain Names
Copyright © 1998-2000 all rights reserved.