Netro Support: NTP
Introduction
ntp (Network Time Protocol) allows you to syncronise your computer clock with an Internet Time Server
Netro maintains a stratum 2 server, which is syncronised with a Stratum 1 atomic clock at the
National Measurement Institute in Sydney, Australia. To use our time server, you must be connected
directly to Netro via our Dialup or DSL service.

Setup
Start, Control Panel, Date & Time, Internet Time
Server: ntp.netro.com.au
Update Now.
You can verify the accuracy of the time by dialling 1194, to listen to the "talking clock" via telephone.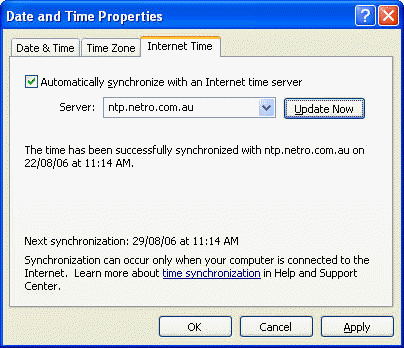 Links:
Windows Time Service