Internet Explorer Proxy Configuration
Proxy Servers
Netro utilises Proxy Servers to increase the speed and reliability of web access, and to conserve bandwidth on the internet. A proxy server acts like a cache, storing recently visited internet sites on our local server, so that instead of having to trek across the internet, the page is here and ready for you here.
Netro Proxy Settings
Sydney Proxy Server - proxy.netro.com.au:8080
Melbourne Proxy Server - proxy.netro.com.au:8000
Automatic Proxy Script - http://www.netro.com.au/proxy.pac/

The Proxy Now icon shown on the left should auto configure Internet Explorer v3.02 and later. Select Run when the dialogue box appears
Internet Explorer Settings
To confirm if Internet Explorer is configured correctly, select Tools (or View for older versions), Options, Connection tab. You can use any of these following options to configure proxy settings under Internet Explorer:
Automatically detect settings (new to v 5.0)
Use automatic configuration script (since v 3.0)

www.netro.com.au/proxy.pac
Manual proxy server configuration

proxy.netro.com.au, port: 8080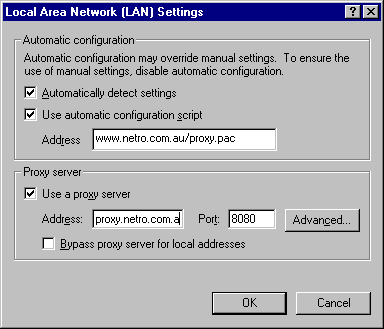 Windows 3.1 settings
Select View, Options. Go to the Connection tab, and tick the box at the bottom.
Click on the Settings box, and enter :
HTTP: proxy.netro.com.au
Port: 8080 (Melbourne : 8000)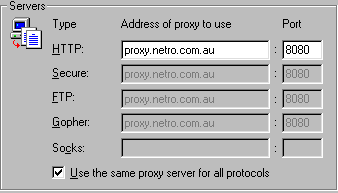 Netscape settings
Click here for details.