Netro: Modem Troubleshooting Guide
Overview
To minimise any possibility of modem dropouts, Netro uses Digital 56K modems. We test all our equipment regularly to ensure reliability and performance.
If you find yourself getting frequently disconnected, or just wish to optimise your modems performance, then refer to the checklist below.
Modem problems and common causes for modem dropouts

Telephone Line
The telephone line that connects your modem to the wall socket must be plugged into the Line socket on the modem. The connection labelled phone is designed for connecting a telephone extension. If the telephone line is plugged into the wrong place, you may receive "No Dial Tone" or "No Carrier" error messages in your communication software. To ensure the telephone line is working correctly, plug in a handset, then dial 1272 2123, which should identify your phone number.

COM port and IRQ settings
All modems requires a COM (serial) port address and an IRQ (interrupt request) in order to function. The COM port and IRQ for the modem usually cannot be used by anything else within the system. Most modem hardware is "plug & play", which allows your operating system such as Microsoft Windows to automatically setup the modem. Consult your modem manufacturer if you suspect that you have a hardware conflict. This is the first thing to check if your modem was fine up until you installed some new hardware.

Testing your modem
Use a terminal program to send basic AT commands (see below) to your modem. Use Terminal under Windows 3.1 (File, Run, terminal) and Hyperterminal under Windows 95 and later (Start, Run, hypertrm) .

Background software
No matter what operating system you are using, you won't be able to use the modem reliably if there is other communications software running in the background. This includes any background fax or answering machine software that may have been installed with your modem.

Easycall
If you are using your modem on a telephone line with Telstra Easycall (Call Waiting) enabled, then you will get disconnected every time somebody tries to call you. To disable Easycall, either dial #43# on a normal handset, or place this string in front of the phone number that you are dialing. To re-enable, dial *43#.

Telstra Touchfone
These phones emit a constant pulse along the line to maintain their memory settings which can interfere with modem transfers. If you have a Telstra Touchfone on the same phone line (ie: you don't have a dedicated modem phone line), then disconnect it before using the modem.

Testing the line quality
Plug a standard telephone into your phone line, and dial 0. You should hear nothing at all. If there is any static on the line, you may need to ring Telstra Business Faults on 13 2999 or Telstra Residential Faults on 13 2203 to get them to check your line.

Getting Telstra to test the line quality
Telstra has a Faxstream Testfax Plus service, where you can send them a fax, and they will fax back a line quality report. To use this, download the test fax, then fax it through to 1300 368 999. You will require a faxstream grade line to do this.

Magnetic interference
Make sure that you don't have any large appliances next to your modem as they may disrupt transfers (fridges, washing machines, etc). This especially applies to mobile phones.

Environment
Make sure that your modem is not in direct sunlight, or under a leaky roof. Keep it off the floor as well to avoid dust.

Connection Speed
Please note that the full modem speed will only be achievable under favourable conditions. This is dependant on such factors as line quality, distance from the telephone exchange, as well as the age and quality of the wiring at your local exchange. You may also wish to try setting the connection for a lower speed, some serial controller cards cannot handle the higher speeds. Also try using a generic modem driver.

Modem specifics
Some modems will require special AT commands to initialise them for an Internet connection. Check your modem documentation. At the bottom of this page you'll find out where to enter these commands. Also, make sure that your modem has an Austel approved sticker somewhere. Neither Telstra nor Netro will support any modems which are not Austel approved.

Device Driver
Please ensure you are using the latest device driver for your modem. Contact the manufacturer or visit their website to see if an update is available. Some device drivers are available via Windows update by selecting a custom update, then select hardware.
Modem AT command set
Most modem manuals contain the full settings applicable to their modem, here are some useful ones. See the instructions below on how to enter in the commands in Windows 95 and later.

All command strings should start with AT (attention), followed by your other commands. Please note that the commands will be carried out in the same order that they are entered.

Eg: AT&FM0 will reset your modem to factory settings, then turn the modem speaker off.
&F Restore factory defaults.
&K3 Use Hardware handshaking also known as RTS/CTS (hardware) flow control
M0 Turns the modem speaker off. Useful late at night.
M2 Keep speaker on after carrier detected, this way you know your that modem is connected
W1 Displays extended negotiation messages, such as compression, error correction & speed
&C0 Assume presence of carrier detect signal
&D0 DTR status not tracked, this will stop your modem from hanging up prematurely
S07=50 Carrier silence delay (Sec), 50 seconds should give enough time for the modems to handshake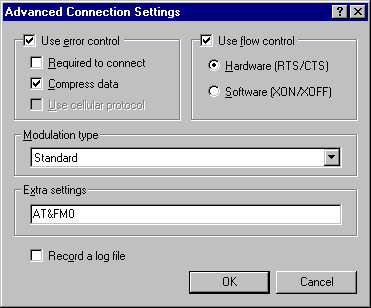 Storing Modem strings and AT commands
If your modem requires a specific command string or some extra commands that you'd like to enter every time you log on, then store the settings in the connection profile.

To do this, Click on Start, Programs, Accessories, then go into Dial-up Networking. Right click on Netro, and select Properties.

Click on Configure, then select Connection. Finally, click on Advanced, and you'll see a screen like the one shown here.

Your modem settings should be typed in under Extra settings. A recommended string is AT&F which will restore your modem settings to factory default everytime you use this connection.

If you continue to have difficulties, then Record a log file by ticking on the box. This will create a text file at C:\WINDOWS\ModemLog.txt which will provide you with useful troubleshooting information.
Links
Internet Assistance Program
Netcomm Modem Drivers
Copyright © 1998-2005 all rights reserved.