Microsoft Internet Mail Configuration Guide

Microsoft Internet Mail is a complete Email package that allows you to send and receive email with anyone on the Internet. It is provided with the initial Netro connection software or can otherwise be downloaded from our download section.
This guide will show you how to configure Internet Mail for your Netro connection. Start Internet Mail through the Microsoft Internet folder (Windows 3.1) or by Start, Program, Internet Mail. (Windows 95 and NT).
You will be asked a series of questions about your Netro account. Enter all the details as shown in this guide, these settings may later be changed through the Mail menu, within Options, Server.
Below is the the first screen. Enter the name that you'd like your email messages to be addressed from, and your email address. Your email address is made up of your username and "@netro.com.au". Example: jsmith@netro.com.au.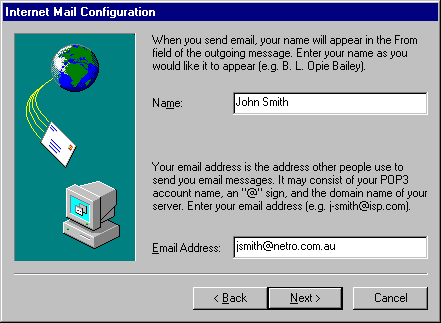 Next you will be asked for your Mail server settings. Enter the information as shown below.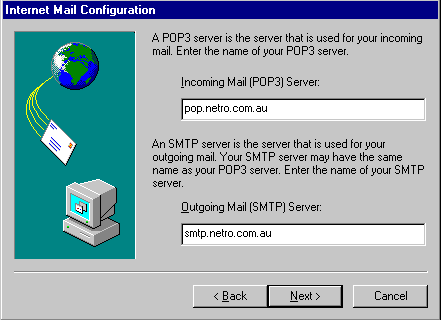 Enter your account name and password as requested. This is the same as the login and password you use to connect to Netro. Later versions of Internet Mail will ask about Secure Passowrd Authentication, do not select this option as Netro does not support it.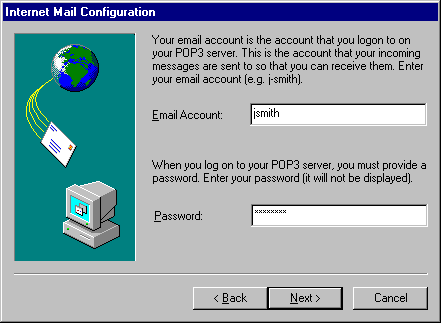 Select your method of connecting to the Internet, usually this will be by modem.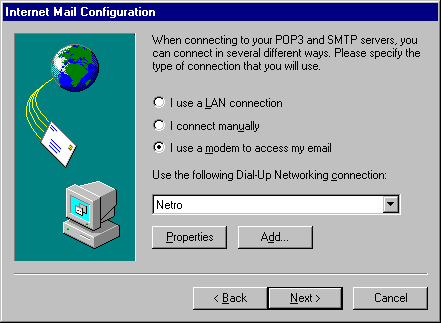 Congratulations! Internet Mail has now been configured. Please consult the online help for further information in sending and receiving email.