Using Microsoft Frontpage to publish your web site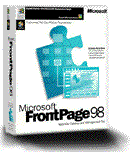 Netro offers the use of Microsoft FrontPage 98 server extensions for customers who have subscribed under our corporate or higher web hosting plans. These extensions are required if you wish to use certain FrontPage WebBot components.
In order to use these additional components, you will need to publish your web site via the FrontPage Explorer Publish Feature. If you do not upload your site with the FrontPage software, some of the aspects of the web you have designed may not work properly.
If you are using Frontpage, then please follow the steps below to publish your site.

Step 1
Once you have designed your site in Microsoft FrontPage, open up the Microsoft FrontPage Explorer, click on the File menu and select Publish FrontPage Web.
Step 2
If this is the first time you are publishing, then click on More Webs, otherwise, select your location from the list provided.
Step 3
Type in your full web site address as the location to which you wish to publish your FrontPage web, then click OK.
FrontPage will now start uploading your site.