Microsoft Exchange
This document will assist you in setting up Microsoft Exchange for Windows 95. Please also refer to this document for general troubleshooting help as well. If you still have problems sending and recieving Email, please contact us here at Netro, if you can send Email using another mail client, drop us a line at support@netro.com.au
Main settings
First start up Microsoft Exchange (Accessible through either Start, Programs Exchange or by clicking on the Inbox on your Desktop. (Settings may also be accessed through the Mail and Fax option in Control Panel). Then select the T ools, Services menu. Select Internet Mail and click on properties. If Internet mail is not there, then add it through the add button.
You should then see the following screen: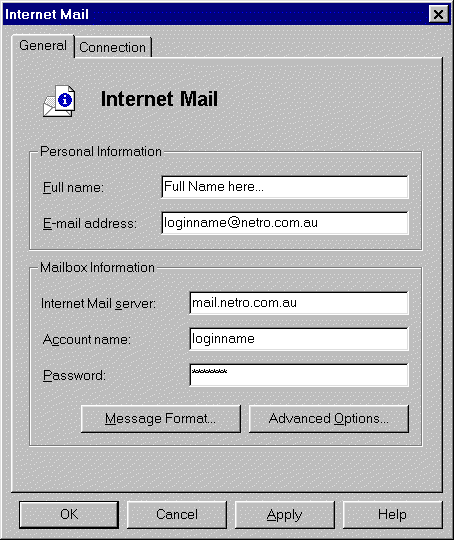 Enter your full name and email address in the Personal Information area (the email address is your login name followed by @netro.com.au). Make sure the Internet Mail Server is the same as shown above, mail.netro.com.au. Also fill in your login name along with your password in the fields specified. Make sure all entries in this section are in lower case.
Next click on the connection tab and set the options as shown below: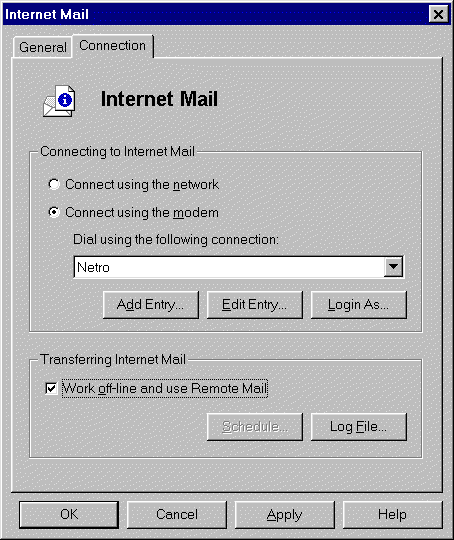 Further troubleshooting
It is advised for customers with dialup modem connections to use remote mail. In this case, to actually send your message, or retrieve any new email, you must click on the Tools menu and select Deliver Now. Message format: (For your Information). Default is MIME which is compatible with most new email readers. Some gateways such as Microsoft Mail 3.2 only support Uuencode.
If you find that all other settings are correct, yet you still cannot log into the mail server, make sure that you have no other Email programs open. If you do change any settings, you must Exit and Log off from Exchange (accessed through the file menu) before the settings will take effect.